One of the five people in a missing submersible craft that was exploring the Titanic wreckage is a record-setting daredevil who has flown to space and traversed the planet's deepest underwater trenches, and who has acknowledged that being rescued is not always a possibility.
"If something goes wrong, you are not coming back," British explorer and businessman Hamish Harding told the Indian newsmagazine The Week in 2021 after completing a record-setting dive in the Mariana Trench, the world's deepest part of the ocean.
That four-hour dive explored the bottom of Challenger Deep, which has a depth of 35,860 feet. For comparison, the Titanic is nearly 13,000 feet below sea level.
Harding said he was too busy to be scared during his dive, though he acknowledged its great risks, including that no other submersible "is capable of going down there to rescue you."
"It will take three years to build another one," he said of the specialized vessel that's designed to withstand water pressure that's roughly a thousand times the standard atmospheric pressure at sea level. He likened this force to 8,000 double-decker buses.
Harding earned two Guinness World Records for that dive — for the longest time spent traversing the deepest part of the ocean on a single dive and for the farthest distance traveled along the deepest part of the ocean. He earned a third record in 2019 for completing the fastest circumnavigation of the Earth by airplane.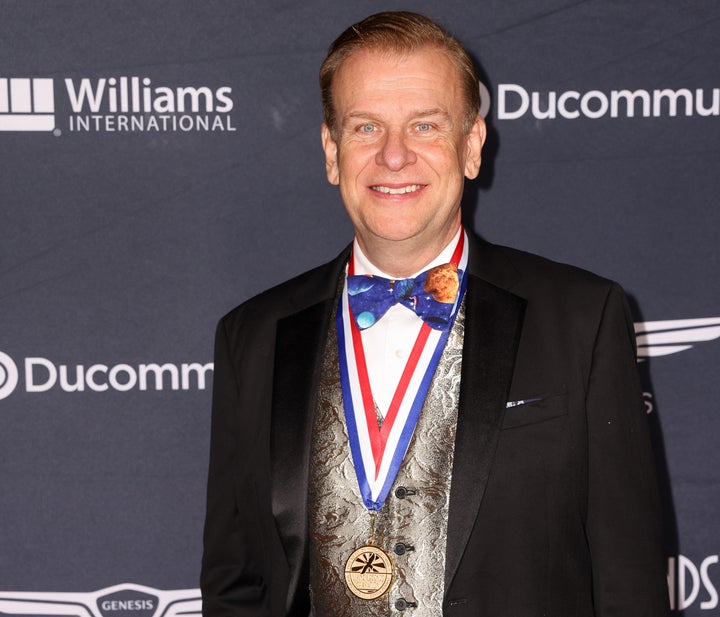 One year after his historic dive, Harding flew to space in Jeff Bezos' Blue Origin rocket, New Shepard.
The search continued Tuesday for the five-person submersible that went missing Sunday morning while taking tourists to view the sunken wreckage of the Titanic off the coast of southeast Canada.
Along with Harding on the vessel are Pakistani businessman Shahzada Dawood and his son Suleman. Two others believed to be on board are French Navy veteran PH Nargeolet, who would be operating the vessel, and Stockton Rush, CEO of OceanGate Expeditions.
The U.S. Coast Guard said Tuesday afternoon that the missing vessel was estimated to contain less than two days' supply of oxygen.
Action Aviation, an aircraft brokerage company that Harding founded, recognized his many accolades in a statement Tuesday that praised him as "an extraordinarily accomplished individual who has successfully undertaken challenging expeditions," including multiple trips to the South Pole.
"The team at Action Aviation are extremely proud of Hamish and we look forward to welcoming him home," his company said.
Several media outlets have described Harding as a billionaire, though he is not listed on Forbes' list of billionaires.